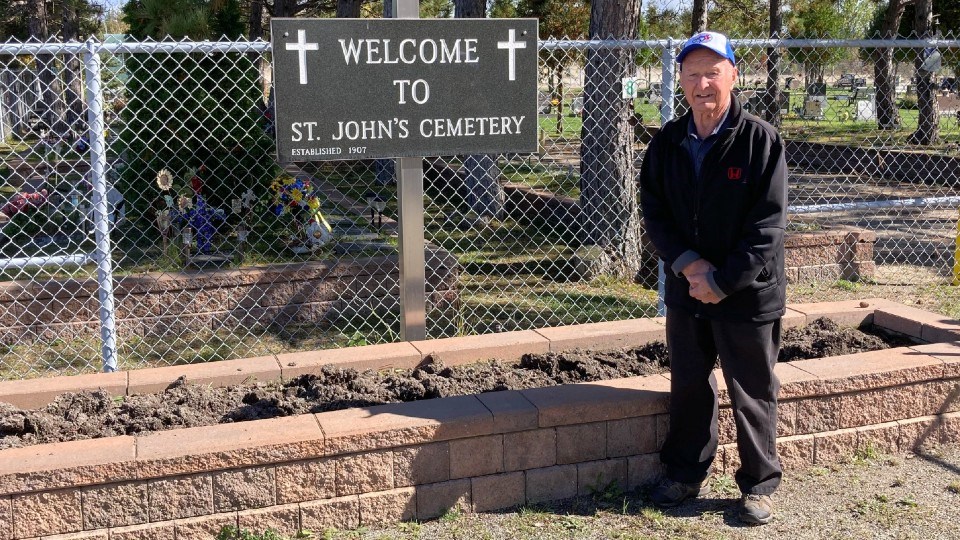 'I keep doing it. The more I do, the better I feel '
Stan Hayduk is a longtime resident of Garson. The community he calls home has a very special place in his heart.
He was involved in municipal politics for 35 years, first representing Neelon-Garson, then Nickel Center and finally, the Regional Municipality of Sudbury. He was mayor of Garson from 1982 to 1997.
During his career, Hayduk was a hoist mechanic for Falconbridge Limited for 38 years.
He has been a member of the St. John's Cemetery Improvement Group since 1997. Hayduk is a valued, dedicated and trusted member of the group. Most nights at work, he uses the John Deere tow cart and busies himself moving piles of raked pine leaves and needles, as well as piles of pruned branches from tree pruning, to the area. discharge.
He is also involved in repairing graves ("ballasts"), transporting soil to these areas, applying grass seed and packing these areas for grass to grow.
John Monaghan formed the cemetery group in 1993 and three original members are still active and are all doing well. Their group of 20 (nine in their 80s) have completed around 25 major projects over the years to improve the cemetery. It has always been their tradition to maintain and nurture everything for which they are responsible. They meet once a week for two hours of planned improvement work to help make the cemetery a great place to visit.
"When I was mayor (of Garson), St. John's Cemetery belonged to St. John's Catholic Church. When we went to a level, the cemetery went to town. The city is taking care of the cemetery and we are working on some improvements.
"We get so many compliments on the beauty of the cemetery. I had been in politics for so long. People call me, even today when I'm no longer there, they still call. I always get along with the staff. I keep doing it. The more I do, the better I feel. "
Hayduk got involved in his community in his youth and has continued to do whatever he can to contribute. The years are many: Hayduk will celebrate his 90th birthday in December.
"I have lived in Garson my whole life. When I was younger I did a lot of [Eastern Professional Hockey League] reffing in the area. I got to know a lot of people, and then I participated in the start of the arena.
Hayduk is a founding member of the Human League Association of Sudbury, a group that believes in and promotes equal opportunity to participate in and enjoy physical activity and healthy meals. He has also been involved with the Garson Lions Club for 57 years.
"We do a lot of volunteer work, help the food bank, or if someone calls, we're looking to see if we can help financially. I'll help with the bingo. I take my turn. If they need help at St. John's Church, I help… (but) now I let the younger ones do it.
"Keeping the Tradition" is the motto of the St. John's Cemetery Improvement Group. Hayduk is confident that the good work of the group will continue in the years to come.
"John Monaghan has done a great job of keeping us organized. I am so proud of all the guys.
Despite the challenges of the pandemic, this committed group of service-oriented citizens not only continued to maintain and improve their community cemetery, but their numbers also increased to include "younger" blood.
They work with good harmony, jokes and laughter, all with the intention of making things better.
Before COVID, the St. John's Cemetery Improvement Group held a fundraising barbecue once a year, attracting 400 to 500 people.
"So many people would attend. They love to do that. We would give away hot dogs and burgers for free and collect donations for charity. "
Hayduk believes volunteering is so important. His sense of community is strong, as is his desire to help. At the age of ninety, he continues to contribute.
"Around the community, many people [need help]. You still want to go and help them. Maybe not always financially, but there are other ways you can help. The Lions Club is always a volunteer, always helping people. There is so much you can do in your community to help.
Stan Hayduk's Words of Wisdom Volunteer
Go out to help people who need help. Look at a situation, and if you think you can make a difference, do it. Most people do. Sometimes in the past I have asked myself, "Why am I doing this? One time a guy came back and said, 'Sir, I owe you an apology. You have done well for our community. This is why you accept the job. Its not always easy."
Erin Medakovic is a freelance writer in Greater Sudbury.