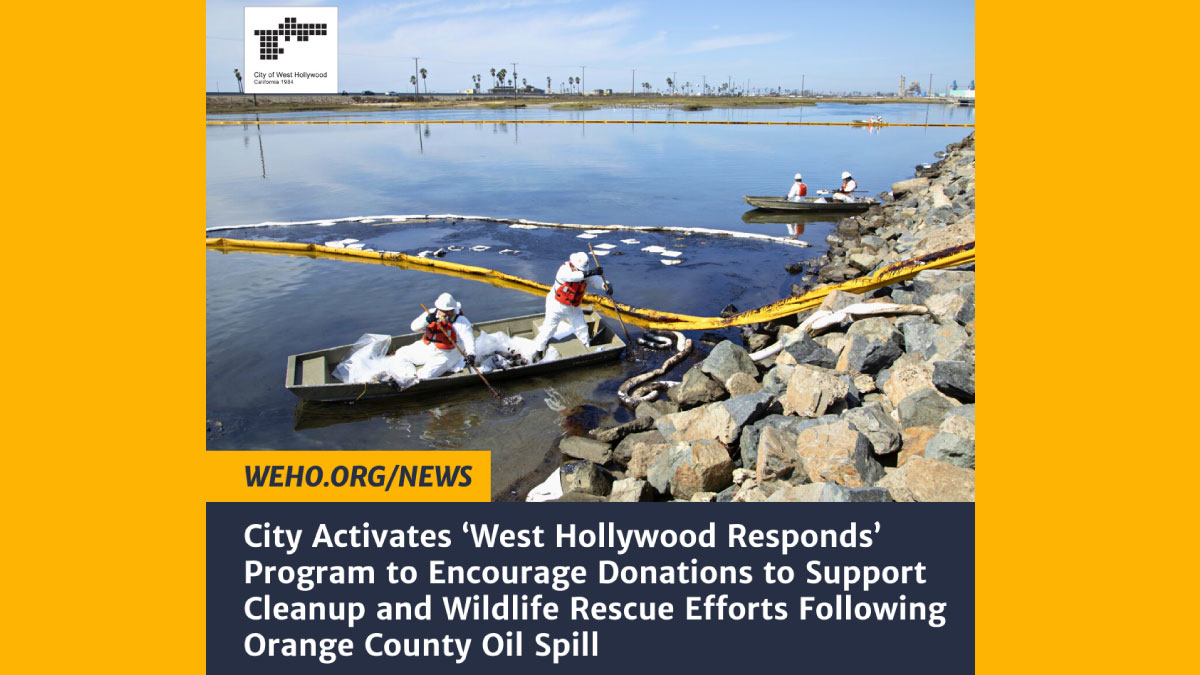 The City of West Hollywood encourages community members to make donations to organizations in dire need of contributions to support cleanup, wildlife rescue and recovery efforts in the aftermath of the great offshore oil spill off the coast of Orange County in Southern California on Saturday October 2, 2021. With more than 130,000 gallons of leaks and circulating along the shoreline, the spill leaves behind a trail of thick mud devastating wildlife and ecological reserves.
The city of West Hollywood activates itsWest Hollywood respondsprogram to help encourage contributions to agencies and organizations working on cleanup and salvage. The City has a list of organizations on its website atwww.weho.org/wehoresponds.
"As we witness the devastating effects of the climate emergency unfold in myriad ways around the world, the news of this oil spill hits our community closely. Many residents and businesses in the city of West Hollywood are asking what they can do to help, "said Lauren Meister, Mayor of the City of West Hollywood. "Trained spill response personnel are deployed to stop the spread of oil and clean up affected parts of the environment, so volunteers are not needed at this time. But donations are essential to help organizations meet the overwhelming needs. I hope that our community can give generously to support the work being done to help affected wildlife and to help the teams in their work to restore the shoreline and the ecosystem. "
West Hollywood core values ​​includeResponsiveness to the publicandEnvironmental responsibility. The City of West Hollywood is firmly committed to protecting and enhancing the natural and built environments. As such, the City is aware of the important role that local governments and organizations play in mobilizing aid for communities in the event of a disaster.
In 2005, West Hollywood City Council first establishedWest Hollywood respondsas a local disaster relief program developed to provide assistance to the Gulf Coast region in the aftermath of Hurricane Katrina. It has been reactivated several times in recent years.
Some organizations that raise donations to support oil spill cleanup, wildlife rescue, and recovery efforts include:
Local and state agencies note that public volunteers are not needed at this time and can, in fact, hamper response efforts. Volunteer efforts may become available in one or more of the following organizations and agencies: