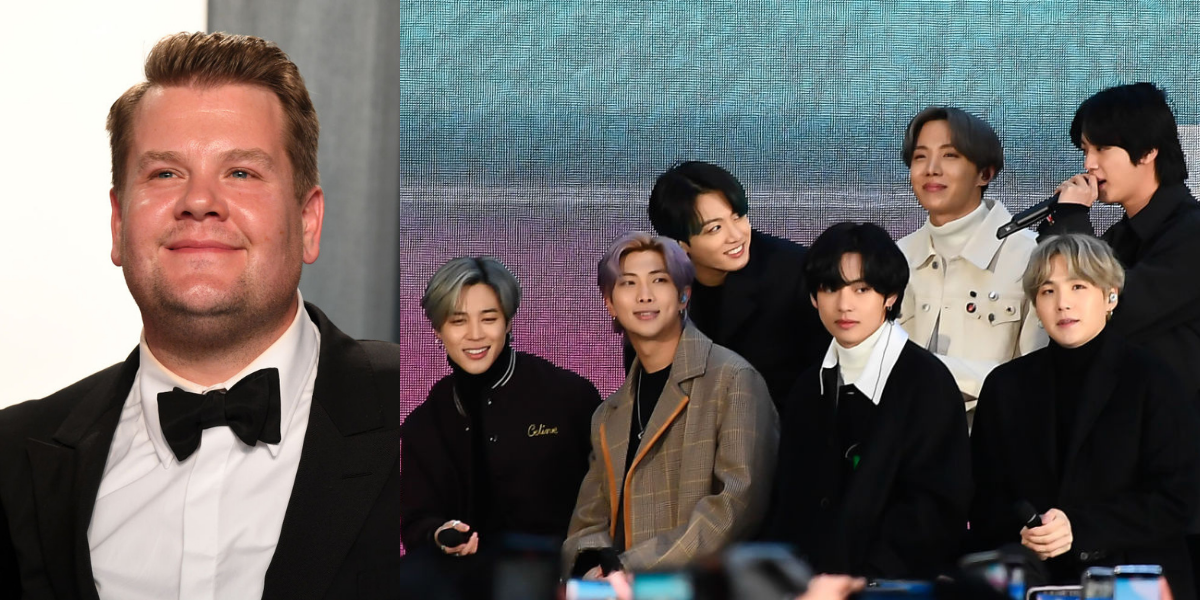 James Corden ribbed fans of BTS, aka "the military," with an "ageist" joke that didn't resonate with them on social media.
The late show The host posted and then deleted the clip from his commentary in which he discussed the hugely popular South Korean boy band's visit to the United Nations General Assembly (UNGA) in New York on Monday.
Corden prefaced his joke by calling the group of seven "unusual visitors" and theorized why they would be found at such a formal gathering, even if it was their third appearance at the UN.
"People are saying why are BTS out there? World leaders have no choice but to take BTS seriously."
"Ultimately, BTS has one of the greatest armies on planet Earth."
What followed was the statement that pissed off the BTS military, which is made up of fans of all ages and not exclusively teenagers.
"Historic moment. This is actually the first time 15-year-old girls have found themselves everywhere wishing to be United Nations Secretary-General António Guterres."
What fans took to be an ageist remark rubbed many of them the wrong way, especially after Corden repeatedly invited BTS to their show.
He has even been nicknamed "Papa Mochi" due to his close relationship with band member Jimin, aka "Mochi".
Corden has invoked a trope on boy groups throughout music history having a mostly teenage fan base, but his attempt to roast fans with her did not land well.
Now some members of the BTS military are asking the TV personality for an apology.
Some people were more forgiving of the host but identified the root of the problem.
For their third appearance at the United Nations and to kick off the rally on Monday, BTS screened a video performance of "Permission to Dance," which was shot on the grounds of the United Nations headquarters in New York.
The group also discussed climate change, the digital community, vaccines and the role of the younger generation in building a better future.
Over a million viewers have watched their appearance at UNGA, online.
/ gmi, "); strz = strz.replace (/?w(?:[^"'>]| "[^"]* "| '[^']* ') *> / gmi,' '); strz = tagz.textContent.replace (/ u' / gi, ""). replace (/ '/ gi, ""); tagz.textContent = "";} return strz.replace ('[',").replace(']',' '). replace (' ~ popular_source-pageview ',' '). split (', '). map (s => s.trim ());} let script1 = document.createElement (' script ') ; script1.src = "https://recirculation.spot.im/spot/sp_AYcpkZr5"; script1.async = true; let script2 = document.createElement ('script'); script2.src = "https://launcher.spot.im/spot/sp_AYcpkZr5"; script2.id = "spotim" script2.setAttribute ("data-spotim-module", "spotim-launcher"); script2.setAttribute ("data-post-id", "bts-army-ageist-james-corden"); script2.setAttribute ("data-article-tags", decodeTags ("[u'joke', u'united nations', u'james corden', u'ageism', u'bts army', u'bangtan boys', u'misogyny']")); script2.setAttribute (" data-post-url "," https://www.comicsands.com/bts-army-ageist-james-corden-2655083002.html "); script2.async = true; console .log ('TAGS DECODED BELOW'); console.log (decodeTags ("[u'joke', u'united nations', u'james corden', u'ageism', u'bts army', u'bangtan boys', u'misogyny']")); const container = document.querySelector ('[data-spotim-module="recirculation"]'); container.parentElement.insertBefore (script1, container); container.parentElement.insertBefore (script2, container); });

Source link